Posted by Lurube on on 13th Sep 2022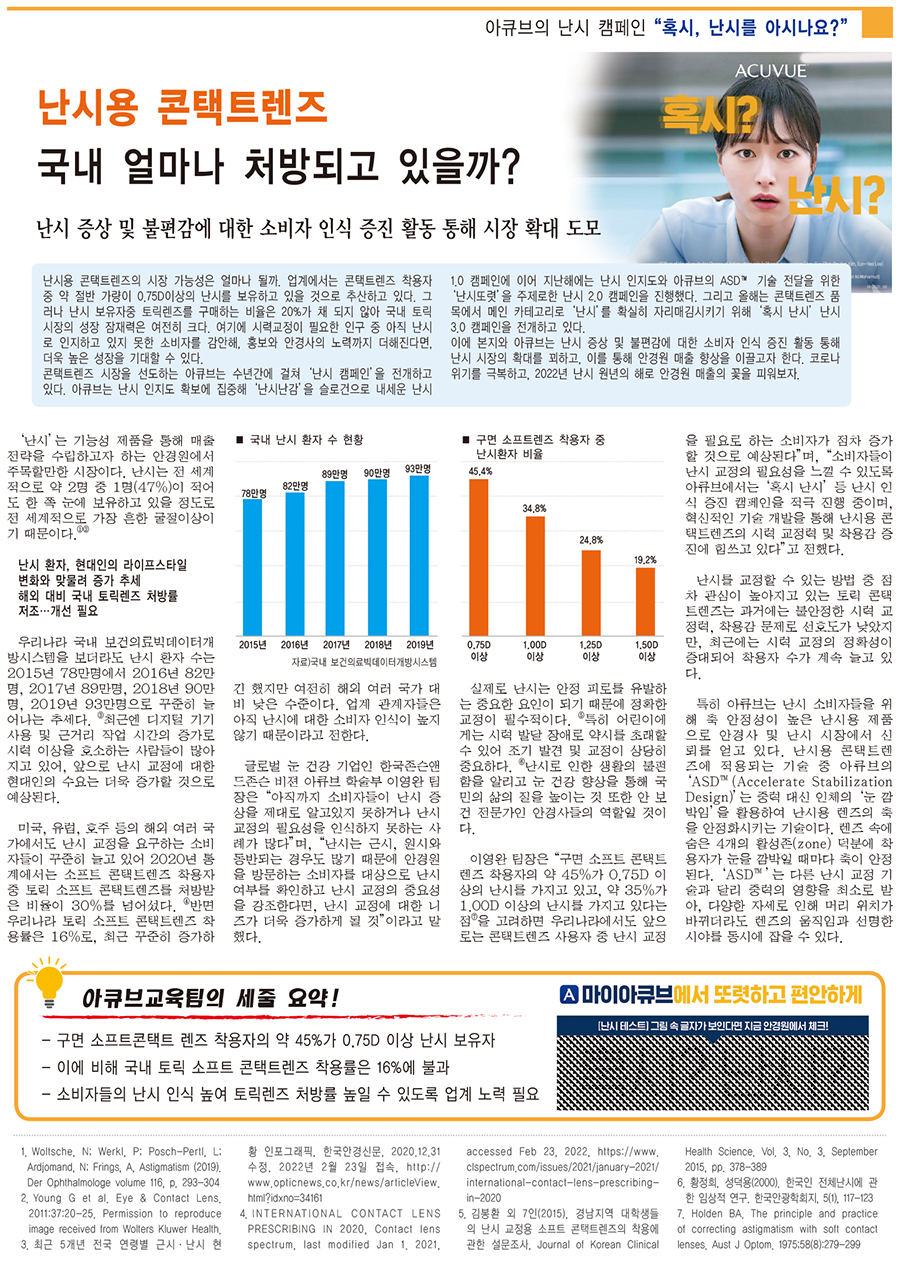 Acuvue's Astigmatism Campaign "Do you know about astigmatism?"
1 How many contact lenses for astigmatism are prescribed in Korea?
Promote market expansion through activities to increase consumer awareness about astigmatism symptoms and discomfort

What is the market potential of contact lenses for astigmatism?
The industry estimates that about half of contact lens wearers have astigmatism greater than 0.75D. However, as less than 20% of astigmatism holders purchase toric lenses, the domestic toric market still has great growth potential. Considering consumers who are not yet aware of astigmatism among the population in need of vision correction, if publicity and opticians' efforts are added, higher growth can be expected. Acuvue, which leads the contact lens market, has been running the 'Astigmatism Campaign' for several years.

Following the Astigmatism 1.0 campaign under the slogan of 'Toys for Astigmatism' by focusing on securing awareness of astigmatism, Acuvue conducted the Astigmatism 2.0 Campaign last year with the theme of 'Clarity of Astigmatism' to deliver Astigmatism awareness and Acuvue's ASD™ technology. And this year, the 'Maybe Astigmatism' astigmatism 3.0 campaign is being launched to ensure that 'astigmatism' is firmly established as the main category in contact lens items.

'Astigmatism' is a notable market for opticians who want to establish a sales strategy through functional products. This is because astigmatism is the most common refractive error worldwide, with about 1 in 2 people (47%) having at least one eye. Astigmatism patients are on the rise in line with modern lifestyle changes The domestic toric lens prescription rate is low compared to overseas... need improvement

In many countries such as the United States, Europe, and Australia, consumers demanding astigmatism correction are steadily increasing, and in 2020 statistics, the proportion of soft contact lens wearers who were prescribed toric soft contact lenses exceeded 30%.
On the other hand, the wearing rate of toric soft contact lenses in Korea is 16%, which has been steadily increasing recently, but is still low compared to other countries. Industry insiders say that this is because consumer awareness of astigmatism is not yet high. "There are still many cases where consumers are unaware of the symptoms of astigmatism or the need for astigmatism correction," said Youngwan Lee, head of the academic department of Vision Acuvue, Johnson & Johnson Korea, a global eye health company. Because there are many cases, if consumers who visit an optician are checked for astigmatism and emphasized the importance of astigmatism correction, the need for astigmatism correction will further increase."
In fact, accurate correction is essential because astigmatism is an important factor inducing stable fatigue. Especially in children, early detection and correction are very important as it can lead to amblyopia due to impaired vision development.
It is also the role of opticians, who are experts in eye health, to inform people about the inconvenience of living due to astigmatism and to improve the quality of life of the people by improving eye health.
Toric contact lenses, which are becoming increasingly popular among methods for correcting astigmatism, were not favored in the past due to unstable visual acuity correction power and wearability problems. In particular, Acuvue is a product for astigmatism with high axial stability for astigmatism consumers, gaining trust from opticians and the astigmatism market.

Among the technologies applied to astigmatism contact lenses, Acuvue's Accelerate Stabilization Design (ASD™) is a technology that stabilizes the axis of astigmatism lenses by utilizing the human body's blinking instead of gravity.

Thanks to the four active zones hidden inside the lens, the axis stabilizes every time the wearer blinks. Unlike other astigmatism correction technologies, 'ASD™' is less affected by gravity, so even if the position of the head changes due to various postures, the lens movement and clear vision can be captured at the same time.